SmileStyler®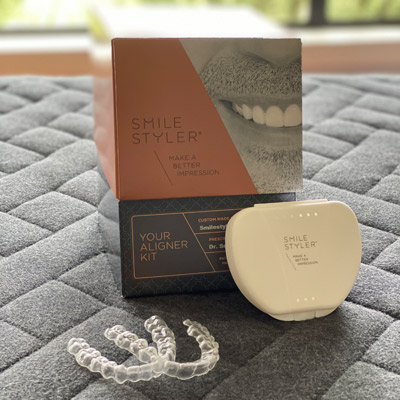 A stunning straight smile is without a doubt one of the best accessories anyone can possess. If you'd like to align your smile discreetly, easily and effectively you can with SmileStyler. Australia's first clear aligner system for aesthetic orthodontics, SmileStyler is a modern aligner system that can address an array of smile imperfections. These include crowded or crooked teeth, a crossbite, overbite or underbite, or a gummy smile.
What Are Some Benefits?
Eat what you want as the aligners are removable
Digital impressions are taken vs. bad-tasting physical impressions
The aligners are smooth and comfortable, unlike metal braces
The aligners are composed of premium quality materials and feature a state-of-the-art design
What Does the Treatment Process Involve?
1. A consultation with one of our dentists, who will determine if SmileStyler is right for you.
2. If you are an ideal candidate and wish to proceed, your dentist will use a 3D intraoral scanner to create 3D digital images of your teeth. Those images will be used to craft your ideal smile.
3. SmileStyler will create a customised orthodontic treatment plan for you that will entail the precise movements of your teeth and the length of your treatment.
4. Once you and your dentist approve your treatment plan, SmileStyler will custom-create your clear aligners and deliver your first phase of aligners to your dentist within a week.
5. You will wear each set of aligners for the prescribed amount of time. They will gently shift your teeth into the desired position.
SmileStyler vs Invisalign®
Both of these discreet aligner systems do a fantastic job of straightening one's smile but there are some differences. SmileStyler uses more contemporary technology than Invisalign.
Plus, every three months we re-plan your case or re-update the computer modelling based on an intraoral scan that we provide you. This allows for much more accurate tooth tracking where the teeth will end up closer to where we want them or more accurate in positions to where we planned for them at the end of the treatment course.
SmileStyle is also more cost-effective and can address both minor and major orthodontic tooth correction.
Get a Free Teeth Whitening
When you become a SmileStyler patient at Anchorage Dental Care, you'll receive free tooth whitening during your treatment.
Book a Consultation
Contact us today to schedule a consultation to see if SmileStyler is right for you.
Check out a YouTube video for more information or the SmileStyler website.
CONTACT US »


SmileStyler Mindarie WA | (08) 9407 7888